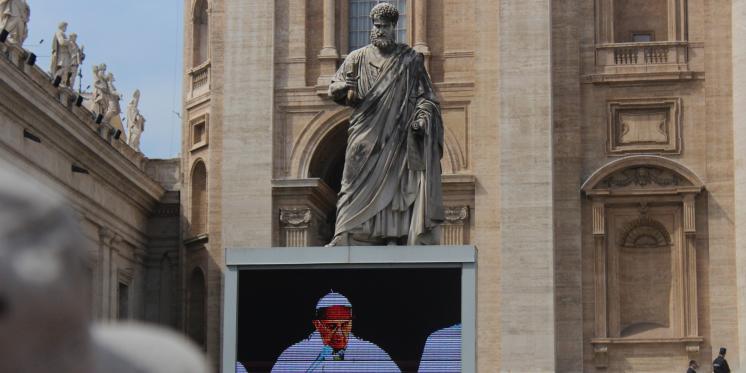 While the twitters have been aflutter with Benedict, this past week a more circumspect group – less hashtags, more literature reviews – gathered at Campo Santo Teutonico at the Vatican. The goal of our international, and interdisciplinary gathering, was to present and debate research on the seemingly sudden rise in the power of the papacy, and of Vatican foreign policy more generally. The Pope, certainly but somewhat startlingly, has become a kind of international celebrity. Have we, the group wondered together, entered a kind of new era of Vatican foreign policy, one characterized by a resurgence in the significance of this small, sort-of, city-state?
A few caveats were given: the celebrity of viral social media can prejudice the question. For all Catholic history, it is safe to say, Popes have not been on twitter, they have not given selfies, and their words were not beamed around the globe in seconds. Despite this, they and their activities have had international significance. If, as one author has put it, a tree falls in the forest, does it mean a tweet caused it? It is more true to say, then, that scholarship and media are only now catching up on the political power of the modern papacy, and religion generally. Polish Solidarność presentations were aplenty at our conference, foregrounding debate on whether such Vatican influence was "unprecedented." It certainly is not.
But maybe it's not the Vatican, but the world stage, that has shifted so dramatically.  Timothy Byrnes, in his opening keynote, argued that the Holy See's unique conditions of "sovereignty, supranationalism, and soft power" give it a kind of privilege, and also power, that most of the world's other religions could only imagine. While, he said, the rest of the NGO's gather outside the U.N. General Assembly tent, the Vatican sits inside. When the big decisions need to be made, the states of the world line up to speak, and the Vatican's diplomats are among them. And those same diplomats represent a tradition that, with a kind of quasi-nation-state sovereignty, also command another kind of quasi-sovereignty over the faithful of the world's Catholics. There on the Vatican's seal are the keys of the kingdom, the fruit of Christ's promise to St. Peter that "whatever you declare bound on earth shall be bound in heaven; whatever you declare loosed on earth shall be loosed in heaven" (Matthew 16:9). "Soft power" is what the discipline of international relations calls that.
What does that power mean now, in an era Jonathan Fox characterizes as an increasing secular-religious competition? Does Vatican foreign policy point us toward the limits of mainstream secular theory, or can it be fitted into a model of interest-based advocacy, of diplomacy as usual, or norm entrepreneurship from an unusual source?
Those questions could hardly have been given more urgency last Friday, as the Vatican was cordoned off, and the Sistine Chapel, which I had visited mere hours before, was emptied out for Europe's leaders to hear Pope Francis address them. These questions, and more, we are hoping to put together with some of the papers from the conference into a special issue of The Review of Faith & International Affairs, so stay tuned.